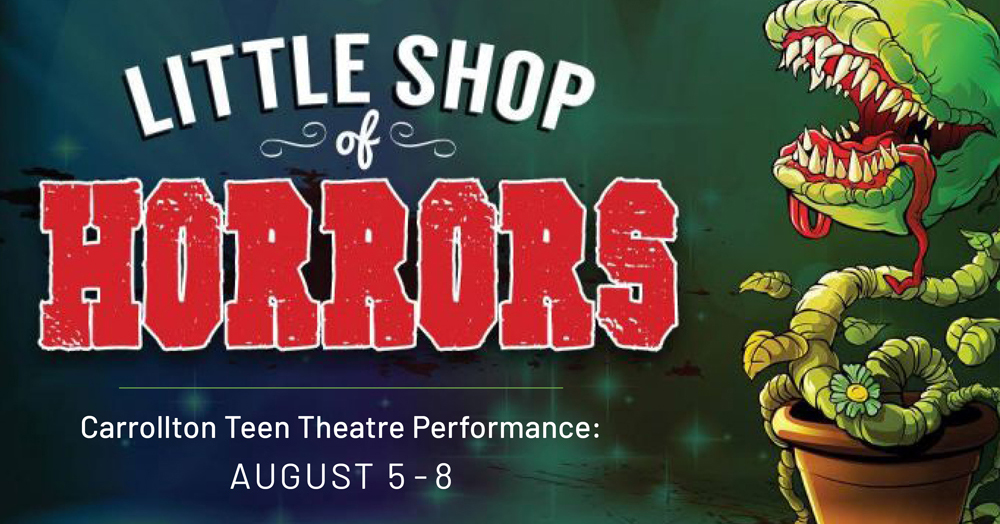 Little Shop of Horrors Cast
Congratulations to the cast of the Carrollton Teen Theatre's production of Little Shop of Horrors!
Seymour: Grant Weathington
Audrey: Taya Taylor
Orin: Matthew Williams
Mr. Mushnik: Isaac Breiding
Urchins: Jeanacris Thomas (Dance Captain), Maura Plumley, Josephine Glass, Maddie Archer (Audrey U/S)
Plant Operator: Levi Campbell
Ensemble/Plant Operators ( Bums, Reporters, Customers, Mrs. Luce, Mr. Bernstein, Skip Snip, etc., Roles will be cast at the first rehearsal): Lauryn Glass (Urchin U/S), Eden Robinson (Urchin U/S), Shad Mcmillan, Garrison Daniell, Nicholas Glass, Sidney Scruggs, Susie Rager, Rachel Crawford, Ava Denalsky, Maddie Kubik
---
The Nutcracker Ballet
August 15
Everyone must attend an audition to be cast. Please check the registration time for your age group and arrive on time. It can take up to 20 minutes to complete the registration process as it requires filling out paperwork, taking measurements and taking a photo. Audition applications will not be accepted after registration is over. Directed by Brii Tyson.
Age 5 (students must be 5 by September 1, 2021)
1-1:30pm Registration
1:30-2pm Audition
Ages 6-7
1:30-2pm Registration
2-2:30pm Audition
Ages 18+
2-2:30pm Registration
2:30-3pm Audition
Ages 8-10
2:30-3pm Registration
3-4pm Audition
Ages 11-17
3:30-4pm Registration
4-4:45pm Audition
Ages 11-17 (with ballet experience)
4-4:45pm Registration
4:45-6:30pm Audition
Females ages 4-17: Solid colored leotard, pink tights and pink ballet slippers.
Females ages 11+ with ballet experience: Solid black leotard with no skirt. Those students that have two full years of pointe experience should bring both pointe and flat ballet slippers to their audition.
Females ages 18+: Comfortable athletic attire with either socks, character heels or ballet slippers.
Males ages 4-18+: Solid color t-shirt and athletic shorts or pants with either socks or ballet or jazz shoes.
Selected cast members will receive more information in the parent packet regarding schedules, dress codes, absences and performance attire.
Performance Dates: November 19 – 21, 2021
Performance Fee: $85
All cast members will receive more information in the parent packet regarding schedules, dress codes, absences, and performance attire.