Little Shop of Horrors Cast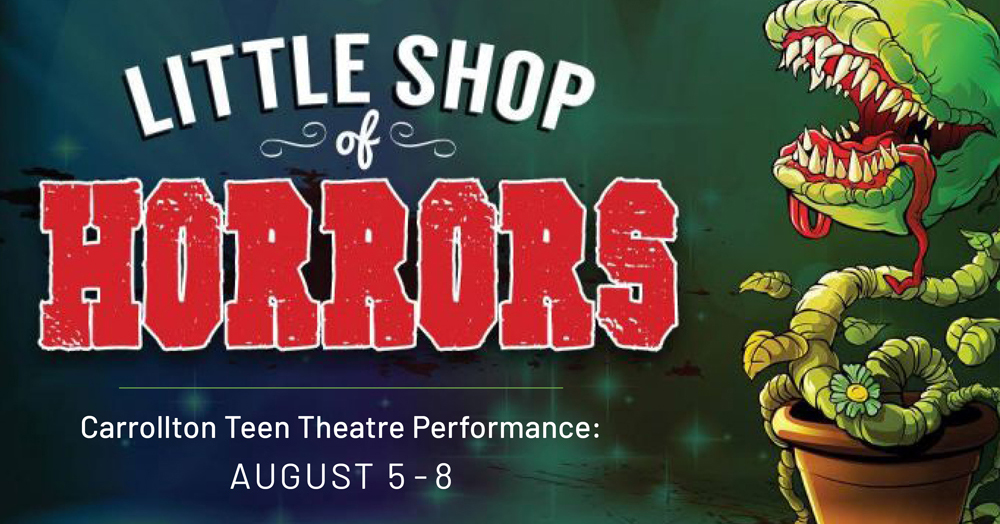 Congratulations to the cast of the Carrollton Teen Theatre's production of Little Shop of Horrors!
Seymour: Grant Weathington
Audrey: Taya Taylor
Orin: Matthew Williams
Mr. Mushnik: Isaac Breiding
Urchins: Jeanacris Thomas (Dance Captain), Maura Plumley, Josephine Glass, Maddie Archer (Audrey U/S)
Plant Operator: Levi Campbell
Ensemble/Plant Operators ( Bums, Reporters, Customers, Mrs. Luce, Mr. Bernstein, Skip Snip, etc., Roles will be cast at the first rehearsal): Lauryn Glass (Urchin U/S), Eden Robinson (Urchin U/S), Shad Mcmillan, Garrison Daniell, Nicholas Glass, Sidney Scruggs, Susie Rager, Rachel Crawford, Ava Denalsky, Maddie Kubik
Clue: On Stage
Auditions: July 12 / 6:30 – 8:30pm
The Carroll County Community Theatre brings the classic board game and motion picture to life in a hilarious farce-meets-murder mystery. Seeking one adult male and two adult females.
Show Dates & Times: September 17 – 18, 7:30pm, September 19, 2pm
Season ticket holders attend September 17
Tickets: $10

The Nutcracker Ballet
August 15
Everyone must attend an audition to be cast. Please check the registration time for your age group and arrive on time. It can take up to 20 minutes to complete the registration process as it requires filling out paperwork, taking measurements and taking a photo. Audition applications will not be accepted after registration is over. Directed by Brii Tyson.
Age 5 (students must be 5 by September 1, 2021)
Registration: 1pm – 1:30pm
Audition: 1:30pm – 2pm
Ages 6 – 7
Registration: 1:30pm – 2pm
Audition: 2pm – 2:30pm
Ages 18+
Registration: 2pm – 2:30pm
Audition: 2:30pm – 3pm
Ages 8 – 10
Registration: 2:30pm – 3pm
Audition: 3pm – 4pm
Ages 11 – 17
Registration: 3:30pm – 4pm
Audition: 4pm – 4:45pm
Ages 11 – 17 (with ballet experience)
Registration: 4pm – 4:45pm
Audition: 4:45pm – 6:30pm
Females ages 4 – 17: Solid colored leotard, pink tights and pink ballet slippers.
Females ages 11+ with ballet experience: Solid black leotard with no skirt. Those students that have two full years of pointe experience should bring both pointe and flat ballet slippers to their audition.
Females ages 18+: Comfortable athletic attire with either socks, character heels or ballet slippers.
Males ages 4 – 18+: Solid color t-shirt and athletic shorts or pants with either socks or ballet or jazz shoes.
Selected cast members will receive more information in the parent packet regarding schedules, dress codes, absences and performance attire.
Performance Dates: November 19 – 21, 2021
Performance Fee: $85
All cast members will receive more information in the parent packet regarding schedules, dress codes, absences, and performance attire.
Dr. Doolittle Auditions
Auditions: August 19, 2021 / 5:30 – 7:30pm
The patients of the delightful animal doctor, Doctor Dolittle, teach him how to talk with them. This extraordinary ability leads the good doctor and his friends on some exciting adventures. Performed by our Youth Theatre, the play has a flexible cast with more than 20 roles. Directed by Jenny Lyle
Targeted Ages: 8 – 12 (Will cast adult a few adult roles)
Rehearsals: Wednesday & Thursday, 5:30 – 7:30pm
Performance Fee: $50 per actor
Show Dates: October 22 – 23, 2021, 7pm
Tickets: $10
It's A Wonderful Life Radio Show
Auditions: September 20, 21 / 6 – 8pm
This classic tale is performed live in a radio station with all the bells and whistles. The script was adapted by Anthony E. Palermo and offers up to 15 roles. Some actors will have multiple parts. Actors will do a cold read at auditions. Directed by Michelle Rougier.
Rehearsals: Mondays, Tuesdays and Thursdays from 6:30 – 9pm and other dates as needed.
Show dates December 3 – 5
Tickets: $10
9 to 5 The Musical
Auditions: December 6, 7 / 6 – 9:30 pm (please arrive at 5:45 pm for registration)
The Show: 9 to 5 The Musical, with music and lyrics by Dolly Parton and book by Patricia Resnick, is based on the 1980 hit movie. With its jubilant score and easily relatable characters, 9 to 5 is the perfect show for our spring production. The musical offers eight principal roles with a full ensemble of office employees, police officers and hospital employees.

Preparation: The audition process will consist of three phases: vocal, dance, and reading. We ask that anyone interested prepare 32 bars of a Broadway song (not from 9 to 5 The Musical) and bring your sheet music with the 32 bars clearly marked to the audition. An accompanist will be provided. The choreographer will teach a dance routine as part of the audition process so please wear clothing and footwear conducive movement. The director will have scenes pre-selected for the reading portion of the audition. Please bring a pencil with you to the audition to take notes for the reading.
Ages: 18+
Rehearsals: Typically be held on Monday, Tuesday & Thursday from 6:30 – 9:30 pm. Additional rehearsals may be scheduled as needed.
Director: Patrick J. Yuran
Show Dates: March 4 – 6 & March 11 – 13, 2022
Season ticket holders attend September 17
Tickets: $10