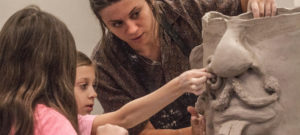 Check out our altogether creative camp options below.
Camp Registration and Fee Policy
Registration for the 2022 Winter/Spring Semester is now open! Registration will remain open while space permits. For camps, registration will close the Friday prior to the beginning of the camp week.
Classes, camps, workshops & special events may be canceled if minimum participation is not reached. Participants enrolled in any instructional class, camp, workshop or special event that is canceled by the Carrollton Center for the Arts will receive a full refund or may transfer the registration fee to another program being offered during that semester of programming.
All class days and/or times are subject to change. The Carrollton Center for the Arts reserves the right to cancel and/or combine classes based on enrollment.
Participants who cancel their registration prior to the beginning of a program will receive reimbursement, minus a 20% handling fee. NO REFUND will be made after the first camp/class session. No refunds will be made on theatre/concert tickets sold. Hardships will be handled on an individual basis and MUST BE delivered in writing to the Superintendent of Arts. Please allow four weeks for reimbursement.
Lunch & Snacks
Full-day campers will need to bring a sack lunch that does not need to be refrigerated. The center does have vending machines. For all camps, the center will provide one snack during the camp day. If a child has a food allergy, we ask parents to send a snack for their child.
Performance Fee
A performance fee will be assessed prior to shows performed by the youth programs. This fee will cover the costs of rehearsals outside of class, sets, props, lighting, legal rights to music/plays, costumes/uniforms, publicity and other costs associated with production.
Admission Fees
An admission fee will be charged for public performances. Aside from admission fees adding value to any product created by the Carrollton Center for the Arts, admission fees are used to support the production staff, including those who work behind the scenes, in the sound/lighting booth, in the box office and who provide janitorial service after the performance.
Everyone is Welcome
The Carrollton Center for the Arts does not discriminate against any person with respect to race, color, sex, national origin, religion, age, veteran status, political affiliation or disability.
The Carrollton Center for the Arts is entirely accessible to persons with special needs, ensuring a pleasurable performance experience for all. Accessible seating for persons with wheelchairs and a companion is available for all shows on a first–come, first–served basis. Be sure to mention your need for wheelchair-accessible seating when you purchase your ticket. For those needing ASL interpretation, please give one–week minimum notice prior to attending the performance. Guide or animal assistant therapy dogs with a designated vest are allowed in the facility, but family pets are not. For any other special needs, please contact the box office at 770–838–1083.
Creative Clay Camp
 April 3 – 7 / 9am – 12pm
Budding clay artists learn hand building skills, clay prep, slab building, coiling and the wheel. Participants glaze and fire their masterpieces to share with family and friends.
Ages: 5 – 10
Class Size: 5 – 10
Member $75 / Non-Member $85
Instructor: Melanie Drew
Kids Choir Camp
April 3-7 / 9am – 12pm
Learn the basics of music, music theory and singing with a group! The camp will work on multiple songs during the week and perform for parents on the last day!
Ages: 5 – 7
Class Size: 5 – 15
Member $75 / Non-Member $85
Instructor: Rebeca Padillo
Young Chef's Basic Pastry Camp
October 10 – 14 / 9am – 12pm
Learn the basics of kitchen safety, nutrition and cooperation while exploring the delicious science of baking. Our experienced master chef will teach recipes easy enough for any beginning cook and discuss food safety and ingredient choice. All supplies for camp are provided.
Ages: 5 – 7
Class Size: 5 – 10
Member $75 / Non-Member $85
Instructor: Andrea Hardman
Other Art Camp Opportunities
Blue Heron Art Studio, Melanie Drew 770–214–2943
SE Quilt /Textile Museum, JoAnna Browning 770–301–2187
Neva Lomason Library, Richard Coleman 770-836-6711