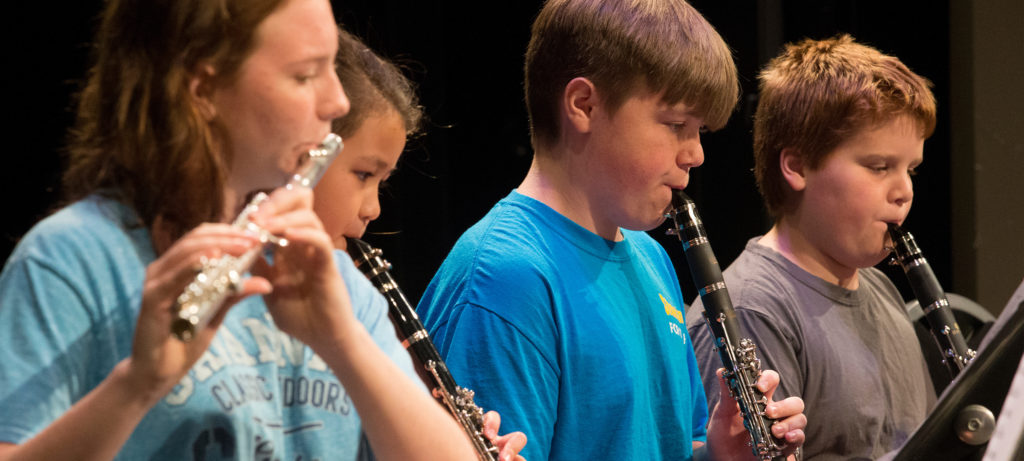 Music is art for the ears! Our musical classes and programs teach you to sing or play an instrument, whatever your age or skill level. Check out our current options.
Carrollton Young Singers
Thursdays, 4:30 – 5:30pm
Learn basic music terminology, sight reading, breath control, harmonization, stage presence with potential opportunities to solo. Singers will perform a winter concert, December 12, at 7pm.
Ages: 6 – 12 (As of September 1, 2023)
Member: $240 per year / Non-Member: $280 per year (fees can be paid in monthly installments)
Director: Deni Harling
Carrollton Youth Chorus
Thursdays, 5:30 – 6:30pm
The Carrollton Youth Chorus is a community singing ensemble for teens. Participants learn foundational sight singing and ear training and vocal techniques and a variety of music from all genres. Singers will perform a Winter Concert on December 11, at 7pm
Ages: 13 – 18
Member: $240 per year / Non-Member: $280 per year (fees can be paid in monthly installments)
Director: Deni Harling
Group Guitar
Saturdays, 1 – 2pm
Learn the fundamentals of guitar like basic chord shapes, scales and guitar maintenance. Participants will also be introduced to the basics of music theory, how to read sheet music, music history and composition. We encourage musicians to bring their own guitar or contact our offices to rent one for the semester.
Ages: 13+ (by placement, please contact Eva Schultz)
Class Size: Up to 10
Member: $120 per semester/ Non-Member: $140 per semester (Fees can be paid in monthly installments)
Instructor: Andrew Agresta
Carrollton Youth String Orchestra
Mondays, 5 – 6pm
August 22 – December 12
Gives young string players their first experience playing in an ensemble. The curriculum includes classical composers, film soundtracks, jazz and popular music. Musicians should be proficient on their instrument and able to read music moderately well to be eligible. In addition to strings, the group will add other instruments to its repertoire. Interested musicians should arrange an audition with Terry Lowry at tlowry@musicaloverture.com or contact Tim Chapman at tchapman@carrollton-ga.gov.
Auditions: August 14, at 5pm
Ages: 9 – 18
Member: $20 per semester / Non-Member: $30 per semester
Conductor: Terry Lowry
Violin Club
Tuesdays / 3:15 – 4pm
The violin offers young children the perfect opportunity to learn musical skills that will last a lifetime. Violins can be rented from B2K Music on Bankhead Highway in Carrollton.
Ages: 5 – 11
Members: $150 year / Non-Members $170 year (fees can be broken down into monthly payments)
Instructors: Joe & Samantha Lester
CSO Music Academy
In-Person or Online
The Carroll Symphony Orchestra provides instruction in violin, viola, cello, bass, flute/piccolo, oboe/english horn, clarinet/bass clarinet, bassoon, saxophone, percussion, tuba, euphonium, trombone, trumpet and french horn. by professional teachers who actively perform with orchestras throughout the Southeast. Beginners will start with a stringed instrument. Loaner violins can be provided to string students. Students are scheduled per semester, but payments are made in monthly installments. Students will receive one private lesson per week. Please contact Eva Schultz at eschultz@carrollton-ga.gov for a placement meeting. Visit www.mycarrollsymphony.com to learn more about instructors.
Dates/Times: Scheduled by the instructor
Ages: 6 –19
30 Minute Lesson
Members: $120 per month/ Non-Members: $160 per month

45 Minute Lesson
Members: $180 per month / Non-Members: $220 per month

60 Minute Lesson
Members: $240 per month / Non-Members: $280 per month
For more information call 770-838-1083 or visit us at the center.
The Carrollton Center for the Arts offers private lessons in piano and voice. To set up an appointment with one of our instructors, please contact Eva Schultz at 770-838-1083 or by email at eschultz@carrollton-ga.gov. Private lessons are offered through the week, based on student and instructor availability.

Instructors
Deni Harling: Voice
Christopher Lewis: Piano
Andrew Agresta: Guitar
Members: $30 per half-hour session / $50 per full-hour session
Non-Members: $40 per half-hour session / $60 per full-hour session
Carroll County Community Chorus
The Carroll County Community Chorus is open to anyone at least 18 years old who loves to sing. The Chorus sings two concerts a year, Christmas and Spring. Singers can join at the beginning of each season through the third rehearsal. Spring rehearsals begin the second Monday in January, then every Monday from 7 – 8:30pm. No auditions are required. Members are required to provide their own performance attire.

For more information, visit www.carrolltonarts.org.

Participation Fee: $20
Performance Dates & Times: