Our Roush Gallery and Galleria showcase an altogether amazing array of exhibitions and other special arts events throughout the year. Check out what's on display now and what's coming up!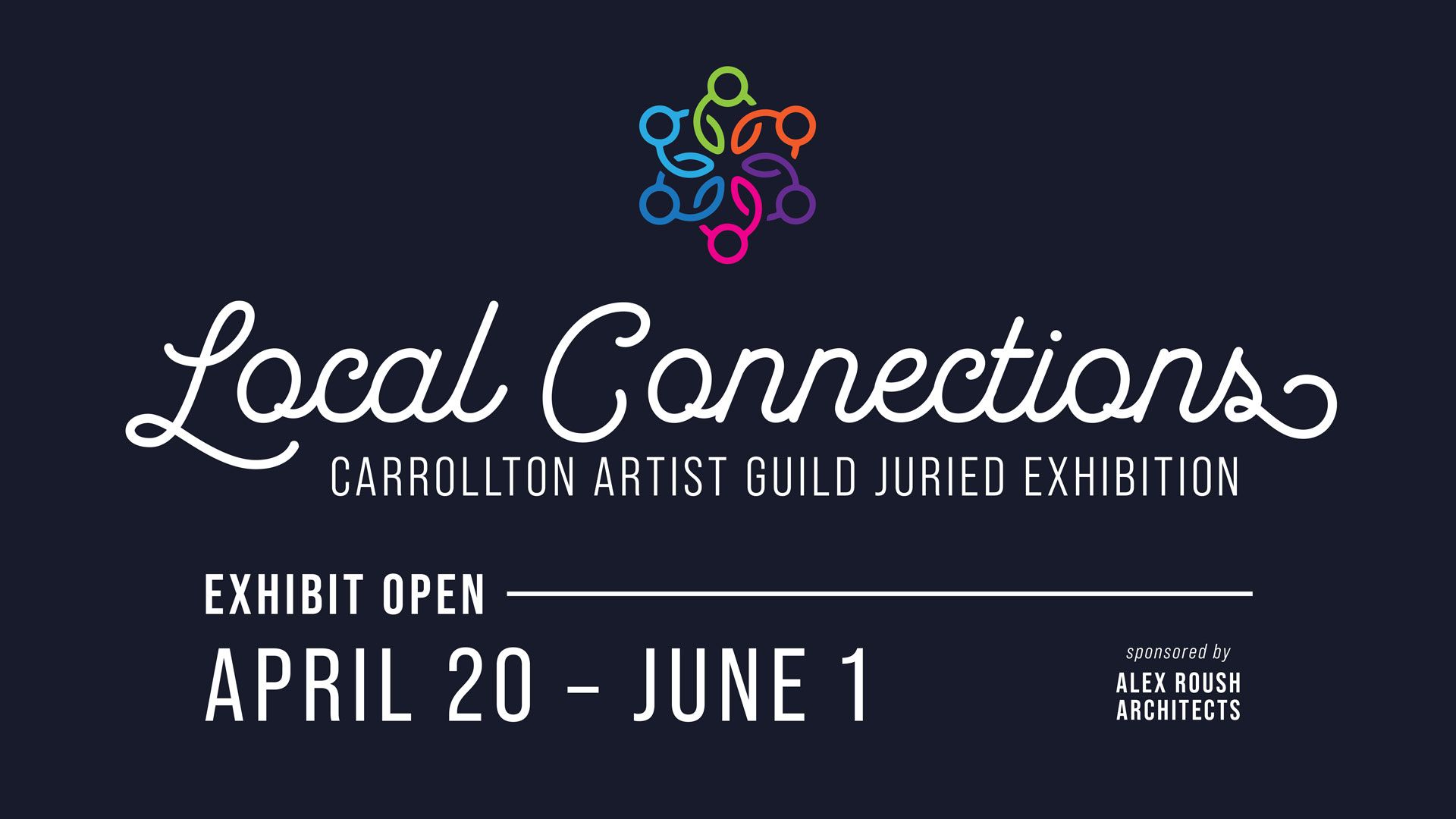 Local Connections: Carrollton Artist Guild Juried Exhibition
April 20 – June 1
Reception: April 20 / 5 – 7pm
Artwork inspired by the stories, culture and settings of the Carrollton/Carroll County area. Visitors to the exhibition will see their locality with a creative, fresh perspective. Sponsored by Alex Roush with Roush Architects.
Roush
Rockmart Art Swap
April 20 – June 1
Reception: April 20 / 5 – 7pm
More art please. This special event allows the Center for the Arts and the Artist Guild to partner with other art organizations and trade spaces for exhibitions of their local artists in each other's community. This year, the art swap is with Rockmart Cultural Art Center.
Gallery Play Digital Edition: Local Connections
Artwork Due: May 22
We want to know what makes Carrollton great for you. Create a piece of artwork and email Marcella Kuykendall, mkuykendall@carrollton-ga.gov, a photo of the work. We will create an image portfolio of submissions to share online with everyone! One winning work will earn $10 Downtown Dollars.
Artwork Due: May 22, 2023
Ages: All ages
Free to submit
An Unassuming Renaissance Man
July 13 – August 21
Reception – July 13 / 5 – 7 pm
Ralph Van Pelt, Sr.'s work represents his passionate pursuit of growth through creativity and hard work. His influences ranged from Andrew Wyeth and Milton Lenoir to the old Dutch masters. The artist believed that anyone who had the interest could become as great as they desired.
Selected Artists from the UWG Art Takeover Juried Student Exhibition
August 17 – September 21
Reception – August 31, 5 – 7 pm
An exhibition of works by UWG students who won the 2023 juried student exhibition at the CCA. A small portfolio of works will be displayed by each student expressing their ongoing research and exploration of art. Artists include Sarah Gailey, Michelle Hendrix, Jewel Mason, Darrin Johnson and McKenna "Mickey" Schmidt.
Potential Space: A Serious Look at Child's Play
August 31 – October 16
Reception – August 31, 5 – 7 pm
This documentary photography exhibition was created by award-winning author-photographer Nancy Richards Farese. The presented visual index of play from around the world is a stunning exploration of the human relationship with play, captured through the lenses of culture, tradition and economics.
Season's Greetings Card Competition and Exhibition
Submissions Due: September 29, 2023
Exhibition of Artwork: November 2 – December 14
Exhibition Reception – November 2, 5 – 7 pm
The CCA is calling for submissions of artwork from all ages that feature winter and holiday themes. All artworks will be included in an exhibit and one work will be selected by a guest judge to be turned into the 2023 CCA season's greeting card. The competition and exhibition are open to the public and there is no fee to participate. Contact the arts center for more information.
School Arts
October 2 – 26
Reception – October 10, 5 – 7 pm
Showcasing the funny, exciting and thought-provoking works from elementary through high school students across Carrollton and Carroll County in grade levels. Let your young artists be inspired by their peers and maybe find a little inspiration yourself.
Out of Disorder
October 26 – December 1
Reception – November 2, 5 – 7 pm
Curtis Bartone's paintings, drawings, lithographs and woodcuts address the uneasy and often complex relationship between humans and the natural world.The works examine the human need to classify, control, intervene and claim a place in the fabric of the landscape. Preconceptions about what belongs and what doesn't are re-examined through collage, sketches and composition on the print matrix.
Small Packages
November 2 – December 14
Reception – November 2, 5 – 7 pm
It's the small things in life that can leave the largest impression. This exhibit showcases powerful, beautiful and compelling small works of art and texts from local artists' and writers' guild members. Shoppers will find great gifts for their friends and loved ones. Purchased artworks may be taken home immediately, allowing artists to replace these works with new ones. The exhibition features new pieces throughout its duration.
From This Mad Passion
January 4 – February 12
Reception – January 11, 5 – 7 pm
The title of this show comes from Michelangelo's description of his own maniacal devotion to his art. Sarah Swanson relates to art being an obsessive passion. This exhibition features drawings and mixed media works she created over the last 12 to 18 months. The artist hopes people can feel their minds or hearts being moved by simple lines coming together to form something beautiful.
Kiwanis High School Art and Music Showcase: Art Exhibition
January 22 – February 25
Reception and Awards: February 4, 3 – 5 pm
An exhibition that explores the complexity of contemporary life for teens through illustrating a mix of personal perspectives and pop culture. The works can be intriguing, exciting and insightful. See the world through the lens of the up-and-coming generation of artists as they navigate and translate their realities and interests through works of arts.
Space in Time
February 22 – April 1, 2024
Reception – February 29, 5 – 7 pm
Jonathan Levi Rutherford creates beautiful and functional artworks from his chosen medium: wood. "The process of woodworking from living tree (as an arborist) to finished sculpture (as an artist) means discovering hidden treasure. Every felled log and piece of lumber was once alive. Its grain is a map of experiences through time. It is my joy to take my space in time to preserve and honor the subtle beauty of another space in time, that of the original tree."
AP and IB Students
March 4 – 16
An exhibition of works by high school students pursuing Advanced Placement and International Baccalaureate art programs.
Art Takeover UWG Juried Student Exhibition
March 21 – April 11
Reception – March 28, 5 – 7 pm
Works by emerging artists from UWG will illustrate a variety of techniques, media and perspectives being investigated by creatives in the contemporary academic environment.
Carrollton Artist Guild Juried Show
April 11 – May 20, 2024
Reception – April 18, 5 – 7 pm
An exhibition featuring artworks by local artists selected by a guest judge.
Art Swap with Gadsden Museum of Art
April 18 – May 30, 2024
Reception: April 18, 5 – 7 pm
This special event allows the CCA and Carrollton Artist Guild to partner with other art organizations and trade spaces for exhibitions of their local artists in each other's community. Find new artists to follow and new artworks to dive into through this collaborative showcasing.
FABRICated: Works by Virginia Derryberry and Marcia Goldenstein
May 30 – July 8, 2024
Reception – June 6, 5 – 7 pm
Derryberry and Goldenstein connect the ideas of women's work and empowerment through image, concept, fabric, embroidery and other hybrid media. Their work explores the ideas of body, identity, personal stories and what is considered "craft" and "fine art." Derryberry works on vintage handkerchiefs and painting/fabric constructions. Goldenstein creates portraits of iconic women who chose professional careers in art and as activists.