Learn through doing in these power-packed, one-day workshops.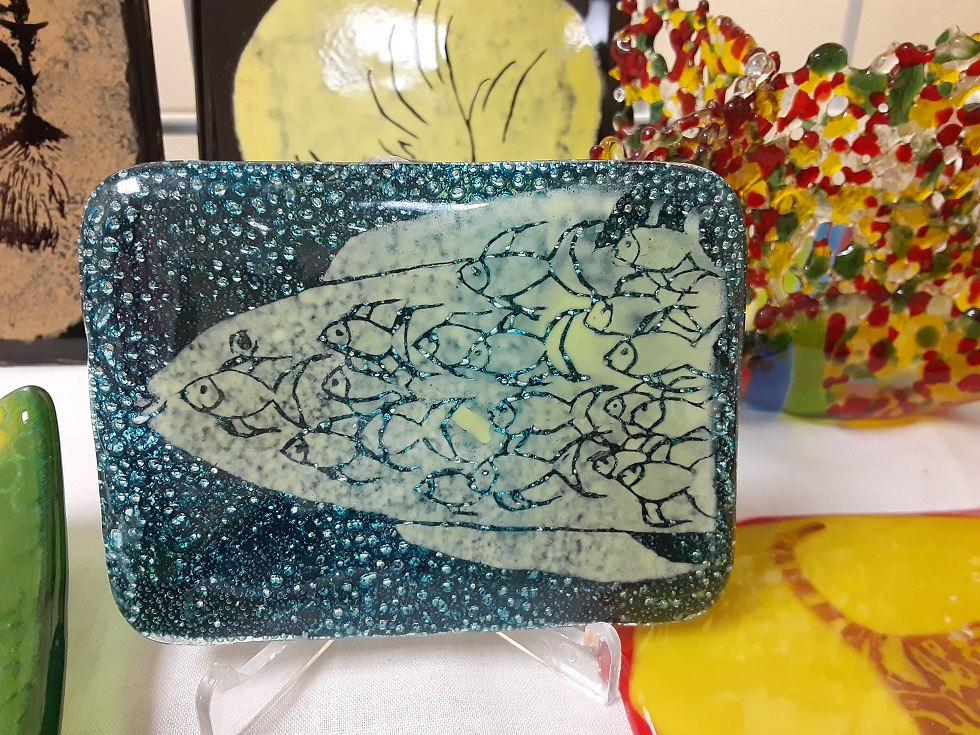 Sgraffito on Fused Glass
September 9 / 10am – 12:30pm
In this workshop, we will use a sgraffito technique on glass by covering the glass with enamel, then scratching the enamel so a pattern or shape emerges from the glass. Your piece will then be fired and will be ready for pick-up the following Saturday. All materials, tools and firing included.
Ages: 13+
Class Size: 4 – 8
Members: $55 / Non-members: $65
Instructor: Elizabeth Mobley
Wabi-Sabi Weaving Workshop: Tree Forms
September 23 / 1pm – 3pm
Wabi-Sabi is a philosophy that finds beauty in imperfection. Wabi Sabi weaving teaches students how to free form weave while celebrating the organic textures and patterns that are produced through hand making. The fall workshop will focus on weaving a tree form with simple materials. All experience levels are welcome.
Ages: 13+
Class Size: 4 – 6
Members: $40 / Non-members: $50
Instructor: Dana Schultz
Ceramic Printmaking
November 4 – 5 / 1pm – 3pm
Decorate clay surfaces with repeatable images and learn about printmaking in this special workshop. All experience levels are welcome.
Session I — Linocut Printmaking:
Design and transfer or directly draw an image onto a soft linoleum block and carve it into the block, while learning safety and tool usage. Students will use their carved blocks to print their image on paper first to test or make a proof of their image.
Session II — Printing on Ceramics
Students will prepare clay for printing by kneading and flattening the clay into a smooth sheet or slab. Students will then learn how to mix an "ink" made of ceramic materials that will be fired permanently onto the clay slab. The "ink" will then be rolled onto the carved block the students made in session one and applied to the slab to create a finished print. Pieces will be fired after the workshop for pick-up.
Ages: 13+
Class Size: 5 – 12
Members: $80 / Non-members: $90
Instructor: Curtis Bartone

Thanksgiving Feast Cooking Workshop
November 20 – 21 / 10am – 2pm
Create appetizers and sides for your holiday meal. This workshop will cover prep and all cooking time so that you can leave with all of your dishes (and recipe cards) right in time for Thanksgiving.
Ages: 18+
Members: $120 / Non-Members $150
Instructor: Chef Sandy Huey