Learn through doing in these power-packed, one-day workshops.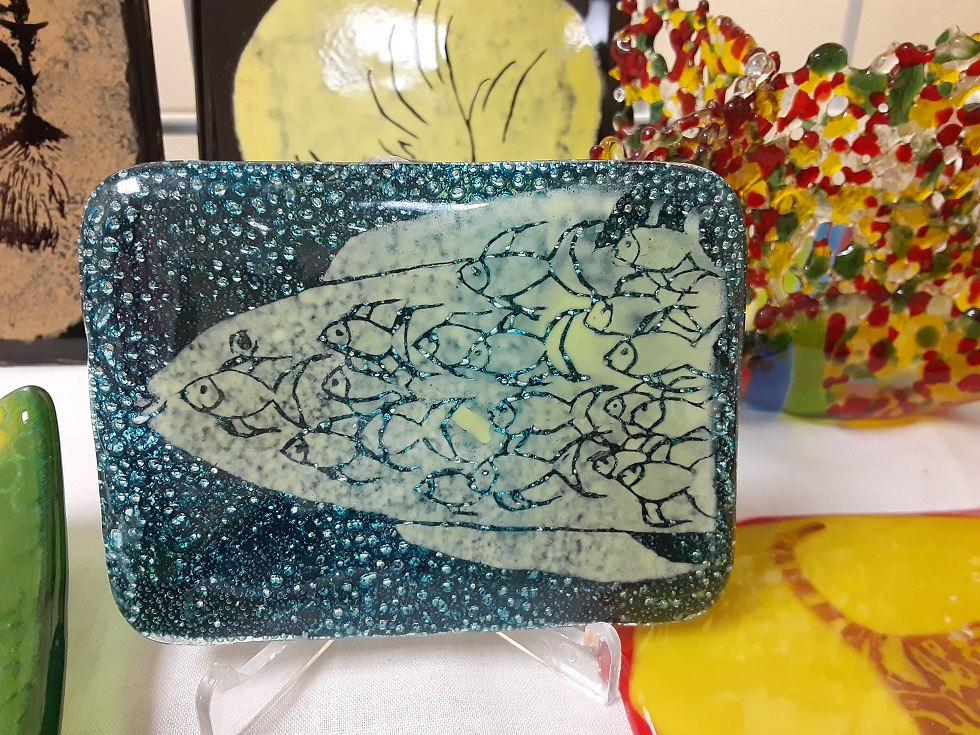 Folk Totem Pole Public Art Project
June 11 / 12 – 3pm
Families are encouraged to work together to help create a public art piece. Students will learn basic clay building techniques and surface design to create their own totem character. All student pieces will be fired and stacked together to create a unique collaborative sculpture.
Ages: All ages
Member: $35; Non-Member: $45
Workshop Size: 6 – 15
Instructor: Cecilie Redding
Gallery Play: Colorful, Playful Portraits
June 18 / 10 – 11:30am, Ages 8 – 12; 1 – 2:30pm, Ages 13 – 17
Gallery Play Saturdays are workshops designed to enhance a participant's understanding of art on display during our gallery season. The activities are interactive and a great way to learn a new art skill. For more information, please contact our Gallery Coordinator, Marcella Kuykendall at mkuykendall@carrollton-ga.gov.

Paint a different kind of portrait with bold uses of color, texture and pattern and learn the basics of color theory. All materials provided. Students should bring a photo of themselves or a friend/family member they would like to paint. Registration is required.
Free
Kiln Fused Glass Projects
June 20, 21, 22, 23, 24 / 9am – 12pm
Students will complete one of five glass fusing projects:
Project 1: Monday, June 20, 9am – 12pm: Rocking Sgraffitto on Fused Glass
Project 2: Tuesday, June 21, 9am – 12pm: Wipe Out Fusing Glass – Create a fused glass dish with a water theme.
Project 3: Wednesday, June 22, 9am – 12pm: Flower Power – Make a fused glass panel having flowers or a garden.
Project 4: Thursday, June 23, 9am – 12pm: Dancing in the Wind – Make glass wind chimes. There is no firing in this project.
Project 5: Friday, June 24, 9am – 12pm: Album Cover Doodles – Doodle on glass having an album cover theme. There is no firing for this project.
No glass experience needed. All tools and materials included. Closed-toe shoes and N95 mask are required.
Ages: 13+
Member: $45 per project; Non-Member: $55 per project
Project Size: 4 – 8
Director: Elizabeth Mobley
Leather Bracer Class
June 25 / 10am – 4pm
Learn how to design, pattern and assemble one leather bracer. Cut, emboss, burnish, punch and wet mold leather. Students will take turns using tools supplied by the instructor to create their pieces.
Ages: 18+
Member: $80; Non-Member: $90
Workshop Size: 5 – 20
Instructor: The Tattooed Santa (thetattooedsanta.com)
Kiln Fused Glass For Beginners
Saturdays, August 6 – August 27 (4 sessions) / 10am – 12:30pm
Learn the basics of fusing glass in a kiln using a variety of glass products and hands-on skills like cutting glass, setting up a design and assembling and preparing your creations for firing. All materials are included. Glass experience not needed. Must be able to grip and handle cutting tools, similar to handling a small hammer and pliers. Please wear closed toed shoes to the workshop.
Ages: 13 – Adult
Member: $165; Non-Member: $175
Workshop Size: 4 – 8
Instructor: Elizabeth Mobley
Gallery Play: Figurative Pots
August 13 / 11am – 12:30pm, Ages 8 – 12; 1:30 – 3pm, Ages 13 – 17; 3:30 – 5pm, Ages 18+
Gallery Play Saturdays are workshops designed to enhance a participant's understanding of art on display during our gallery season. The activities are interactive and a great way to learn a new art skill. For more information, please contact our Gallery Coordinator, Marcella Kuykendall at mkuykendall@carrollton-ga.gov.

Create your own playful character on a pot while learning basic ceramic building skills. All materials provided. Registration is required.
Free