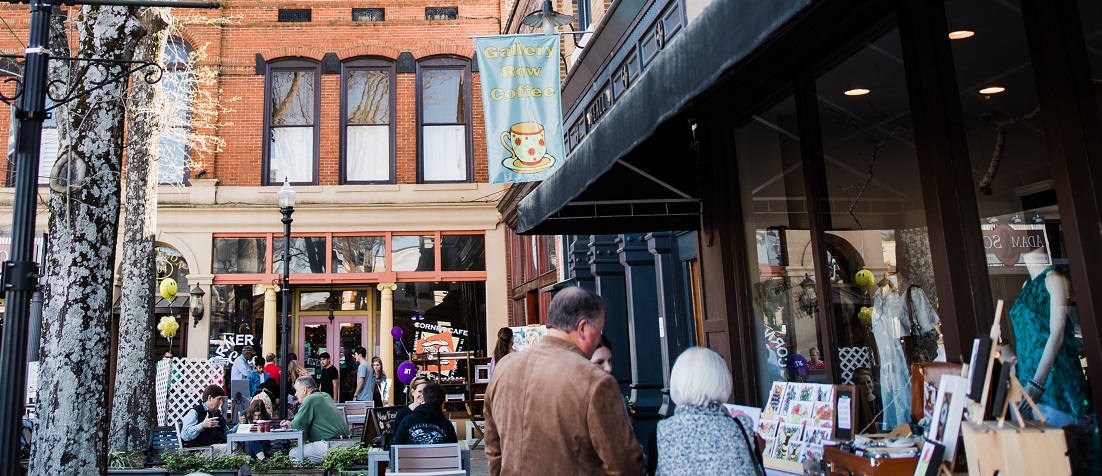 Program Fair Block Party
July 30 / 1 – 5pm
This annual event at the Carrollton Center for the Arts is an opportunity to meet our instructional staff, affiliate art organizations and celebrate the beginning of the Fall Semester. There will be food trucks and activities for kids of all ages.

Cost: Free
Grasshopper Tea and the Basement of Wonder
August 20, 2022 / 11am
On a rainy day with no wifi, Emma and Lavonne explore grandma's basement and discover a surprising old storyteller. Join them on their journey into the tall tales, original music, memorable characters and rich history of western Georgia, through the art of puppetry. Directed and created by Scott Foxx. Written by Mimi Gentry and Scott Foxx, in cooperation with the UWG Center for Public History and the West Georgia Regional Library. Project funded by the Community Foundation of West Georgia.
$5
The Arts Festival of Carrollton
October 8 & 9, 2022 / 10am – 5pm
Carrollton rolls out the red carpet for more than 70 visual artists from across the country. This upscale arts festival features an artist market, two days of entertainment, youth art stops and exhibits, food trucks and roving guest artists. Start your Art Savings Account now by purchasing Art Bucks/Patron Purchase Awards throughout the year to use at the festival. For more information, visit, artsfestivalofcarrollton.com.

Celebrating Local Authors: Alison Umminger & Maggie Mitchell
October 20-21
This year's Visiting Author Series celebrates two local authors and their literary achievements. Alison Umminger wrote American Girls, a coming-of-age novel that follows Anna as she navigates her teen life in Los Angeles. Maggie Mitchell wrote Pretty Is, a novel about two young girls who are abducted in two different states by the same person and relive the experience later in adulthood.
Luncheon with Authors
October 20, 2022
12 – 2pm
$25 (Carrollton Writers Guild Members get a $5 discount on tickets)
Evening Reading and Signing
October 20, 2022
7 – 8pm
$5
Workshop with Authors
October 21, 2022
10am – 12pm
$15
Nutcracker Ballet
November 18 – 19 / 7pm
November 19 – 20 / 2pm
At the Stahlbaum's Christmas Eve party, their daughter, Clara, receives a nutcracker. She falls into a deep sleep and dreams of a battle with Rat King, a land of sweets, a handsome prince and the Sugar Plum Fairy and her Cavalier. This year's ballet will feature new choreography, elaborate backdrops, magical sets, incredible costumes and of course, beautiful dancing performed by our local dance community with professional dancers in principal roles. Directed by Brii Tyson.
Season ticket holders attend on November 18
$18 Adult / $10 Youth (12 and under)
Susan Hayward Tribute Film: Back Street
January 7, 2023 / 2pm
Susan Hayward co-stars with John Gavin and Vera Miles in the story of a woman caught up in a love triangle.
$5 (includes water and popcorn)