SPECIAL SERVICES: The Carrollton Center for the Arts offers seating for individuals with physical limitations. Patrons that wish to sit in these areas can remain in their chair or can transfer to a movable chair provided by the center. For those needing ASL, please contact Superintendent Tim Chapman at least one week in advance to secure an interpreter. The center also offers sound amplification devices. Service dogs are required to wear a vest. All other special needs patrons should contact the Box Office at 770-838-1083.
PROGRAM CHANGES: The Carrollton Center for the Arts reserves the right to make changes in programs and artists without prior notice.
CAMERAS AND RECORDERS: All cameras and recording devices are strictly prohibited in the Carrollton Center for the Arts.
PARKING: Free parking is available at several locations around the venue. The facility has a parking lot on the west side of the building on
TICKETS: Purchase tickets online or at the box office. All ticket sales are final, no refunds or exchanges.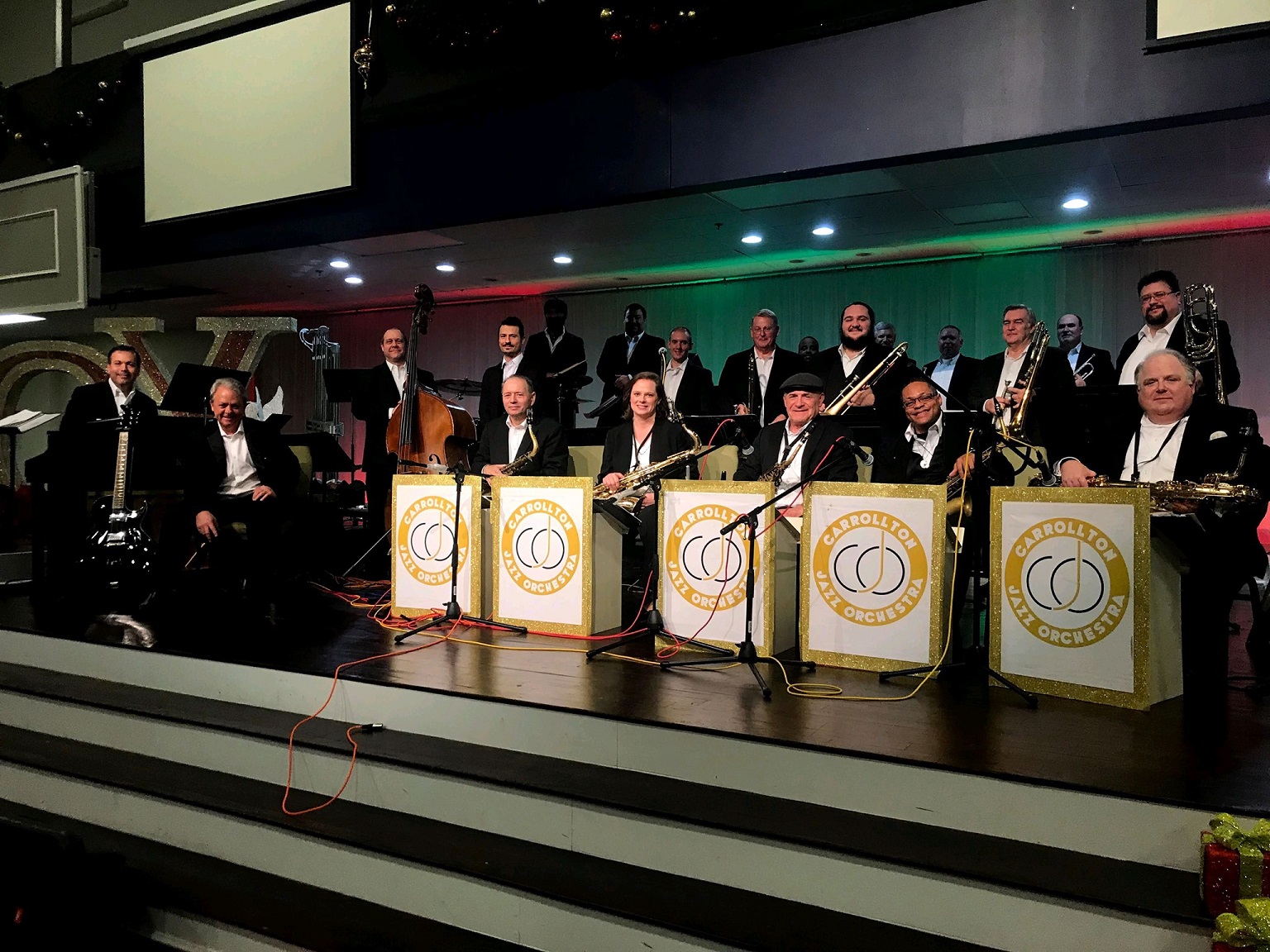 CJO Spring Jazz Concert
March 23, 2023 / 7:30pm
The Carrollton Jazz Orchestra presents a concert of exciting jazz tunes from the Afro-Cuban tradition, including works by Stan Kenton and Count Basie. The CJO will also premier orchestra member John Shapley's new piece in tribute to the great Art Blakey of the Jazz Messengers on this program. You do not want to miss this swinging gig!
$15 Adults/ $10 Youth (12 & under)
Rodgers and Hammerstein's Cinderella
April 12 – 15, 7:30pm / April 15 & 16, 2pm
The Center for the Arts, UWG's Theater Department and local actors present this season's spring musical, Rodgers and Hammerstein's Cinderella. The timeless enchantment of a magical fairy tale is reborn with the Rodgers and Hammerstein hallmarks of originality, charm and elegance. Originally presented on television in 1957 starring Julie Andrews, Rodgers and Hammerstein's Cinderella was the most widely viewed program in the history of the medium. Its re-creation in 1965, starring Lesley Ann Warren, was no less successful and so was a second remake in 1997, which starred Brandy as Cinderella and Whitney Houston as her Fairy Godmother. This romantic fairy tale still warms the hearts of children and adults alike. Directed by Amy Cuomo. Sponsored by Dr. Richard and Marilyn Glass and J. Collins Funeral Home.
Season ticket holders attend on April 12
$15 Adults/$10 Youth (12 & Under) and UWG students with University ID
Celebration Concert: It's a Grand Place for Singing!
April 21, 2023, 7:30pm / April 22, 2023, 4pm
In celebration of 20 years at the Center for the Arts, the Community Chorus performs favorite musical selections spanning the past two decades.
Season ticket holders attend April 21
$10
Cheaper by the Dozen
May 5 & 6, 2023 / 7pm
The funny, heart-warming, and family-friendly story of an inventor father, who keeps his family of twelve children running efficiently. Directed by Jenny Lyle.
$10
Carrollton Wind Ensemble Spring Concert
May 9, 2023 / 7:30pm
The Carrollton Wind Ensemble's final concert of the year features works by John Adams, Antonin Dvorak, Alfred Reed, Benny Goodman, and Carrollton's own Mark Zickefoose. Come support our wind ensemble as it continues to prepare for its 2024 tour of Italy. Conducted by Terry Lowry.
$10
Once Upon A Time . . . Dance Showcase
May 13 / 2pm & 7pm
Join us as our dance program presents their spring showcase with the theme of Once Upon a Time. Dancers of all ages will perform ballet, tap, jazz and modern dance.
$10